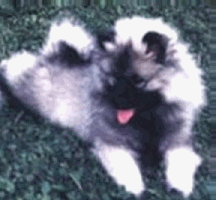 Judges-L Online Presentation
of the Keeshond
by Shirley Uphouse
The degree of importance I have placed on certain elements of the Keeshond are my opinions only. You would do well to learn all you can from other breeders and breeder/judges. They will have different areas of importance and after learning from each one you will be able to develop a more complete mental image of the ideal Keeshond.
About me..Shirley Uphouse...I exhibited my first dog, a Beagle, in 1959.
Since that time I have been active in breeding, exhibiting, obedience, teaching and judging. I am currently approved to judge the Non-Sporting Group, Beagles, Toy Poodles, all but three Herding breeds and BIS. I had the honor of judging the Keeshond Club of America National five years ago.
In the early '60s I bred and exhibited Beagles for several years during which time I acquired a remarkable OES from the Elmira dog pound. I handled him to WD at the New England OES specialty and he finished in the states with two 5 point wins. He earned his Canadian championship with two Best In Shows and one Group II. After Yogi, I knew I liked "coat" but was not ready to go the distance with another OES. Then I found the perfect family dog, and the perfect size, with coat....the Keeshond.
The Keeshond.....
born to be with his people wherever that may be. They are always there..at your feet, in your lap, following around the yard or waiting in the car. They are fun-loving and intelligent but with a sense of themselves so that they can be a bit stubborn in a very good-natured way. The Keeshond excels in obedience competition and agility although they can be exasperatingly stubborn at times. Their sensitivity to their peoples' moods and their intelligence can hamper their performance, as they know instantly when they've made a mistake and can shut down for the rest of the event, but if they enjoy the work they will do it with pizzazz and enthusiasm.
Let's start with the correct pronunciation. Keeshond...(caze-hawnd), said
quickly, sounds a lot like "those caissons go rolling along". "Kees" is a Dutch nickname for the 18th century Patriot rebellion leader, Cornelis de Gyselaer who was often accompanied by a Keeshond. "Hond" means dog not hound. So the dog became knows as Keeshond or Kees' dog. "Keeshonden" is Dutch plural but "Keeshonds" is perfectly acceptable in the States with all but a few purists. What is a nickname for one or more Keeshond? Many, even among breeders.."keys", "keezie/s" "caze". Nicknames are tough...I prefer to stick with Keeshond or Keeshonds though I do shorten Keeshond to "Kees"(keys) sometimes.
The Keeshond came to the U.S. from Holland and Germany. See Jabberwockee site http://www.calweb.com/~jabber/ a Keeshond quarterly magazine published by Penny & Jerry Manser for the story of the Keeshond's introduction into the United States. This site has tons of information on the breed as well as links for even more.
The Keeshond was and is a family companion dog, and in the Netherlands, served as a watchdog on the river boats and barges. One of the more romantic stories is that Kees on the barges would bark to each other, therefore, in a fog, allowing the operators of the barges to judge distances from each other. I tend to believe this story because Kees do like to bark. They are not yappers but are ready should anything need to be announced.
The Keeshond is NOT A HOUND. They are a member of the Spitz family which
includes the Samoyed, Chow and the Pomeranian. If you ever have the rare opportunity to see a true and very rare "wolf-sable" Pomeranian you will see a Pom colored exactly like a Keeshond, silver, black, cream and no orange complete with shoulder stripe and spectacles. Often Pom puppies 8-12 weeks of age have wolf-sable coloring and are referred to as "wolf-sable" but by 12 months of age the great majority become orange or cream sables.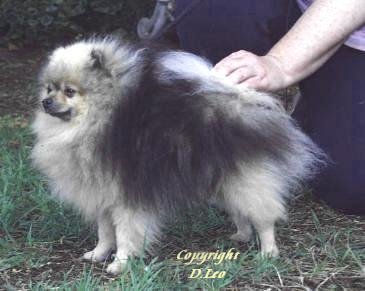 CHERIMAR DINKY TOY [IMPORTED NEW ZEALAND]
Owned by Denise Leo,Australia
Adult wolf sable Pom. Picture is dark or you would probably be able to see the light shoulder line as you do in the Keeshond. Note spectacle lines.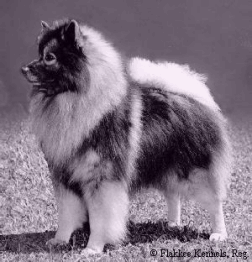 Eng./Amer./Can./Ch. Wrocky of Wistonia ROM, bred by Nan Greenwood and owned by Dicky & Porter Washington, Flakkee Kennels, Reg.
Even though he has been gone for more than twenty years, Wrocky is pictured in the current Keeshond Illustrated Standard as the ideal Keeshond. When you judge the Keeshond, if you will keep a mental picture of Wrocky as your type to look for, you will not go wrong. Balance, good shoulder allowing correct head carriage and length of neck, foxlike expression, good color contrast, medium bone, short body. There are some modern breeders who would fault him as too light in bone....but he is not. His bone is proportionate to the rest of the dog.